Our Lady of the Internet and of the Highway
Philippines: January 2002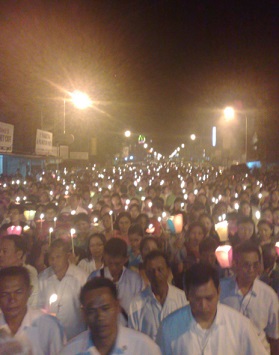 The visit of the International Pilgrim Virgin Statue of Our Lady of Fatima to the Philippines during the month of January 2002 was one of the amazing "moves" of Our Lady. She chose to be found through the Internet, and through the same Internet Her arrival and stay were arranged and finalized.
"Veni, Vidi, Vici," the Emperor Augustus would say to the Senate: I came. I saw. I conquered. This time, Our Lady came, she saw, and she conquered.
In Her travel in the Panay Island, people lined the streets where Our Lady would pass. Yet there are other parts of God's creation that will not be outdone: twice there were groups of ducks that lined up in the fields where the convoy of Our Lady passed through. There was even a carabao that kept running towards the image of Our Lady! Our Lady conquers the entire creation!
And certainly, Our Lady came for the sick and the infirmed. The Queen of Heaven, Salus Infirmorum, Health of the Sick, obtained miracles of physical healings for many of Her children. In Tarlac City alone, a child of nine years of age was miraculously cured of cancer on the very day on which she was to have an operation. Other miracles were reported during her very brief stay of one month in the Philippines.
Thousands upon thousands came to see Her, mostly simply to catch a glimpse of Her. But that brief moment was enough for Our Lady to touch the hearts of men, women, and children. A moment together, but an eternity of graces.
Hail to you, O Lady! Thank you for leading us closer to Your Son!